COMPANY BACKGROUND
Tew Manufacturing Corporation was formed and began business in October 1952 at Fairport, New York for the express purpose of manufacturing Friend Brand fruit packing house equipment. In 1954 it purchased the grader division of the Trescott Company and continued manufacturing both Friend and Trescott machines until 1960 when both lines were discontinued in favor of an improved Tew line of packing house equipment. Since that date, continuing efforts have been made in engineering and manufacturing; permitting us to now offer our finest machinery for cleaning and packing fruits and vegetables. We will not lower our standards of quality of parts and workmanship to compete with low price so called copies of our machines. Please call our toll free number to get details and references about our reliable machines.
POLICY & GUARANTEE
Tew Manufacturing Corporation sells its machines direct to the consumer and not through any distributor of dealer organization. This allows us to price superior equipment lower than our competitors machinery to the benefit of our customers. We guarantee our products against defects in material and workmanship for a period of one year after shipment. If any item or machine is defective, we will (1) repair it. If brought back to our factory, (2) pay local serviceman to make the repair at your place, or (3) replace the part or machine free of charge and prepaid. Customer to install replaced part or machine.
Our Mission
MODERN PRODUCTION AND STOCK CONTROL
Tew Fruit and Vegetable Processing Machines are carefully designed by qualified mechanical engineers who combine over 70 years of research and production experience with modern state of the art technology. Our precision-built equipment is manufactured using the latest types of metal working machinery. This results in extreme uniformity for parts that fit and work properly.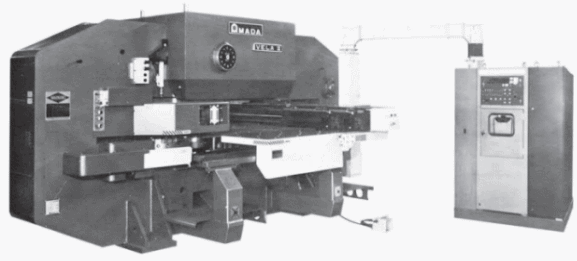 This 30 ton Vela II Amada Machine shapes and perforates our side panels with computer directed programming accurate to + .001''.
PARTS


Experienced workers assure a high level of accuracy. All parts and subassemblies are double checked before use on machines or for replacements.

PROMPT SERVICE
We specialize in processing and shipping quickly. We offer daily service by UPS, all major motor freight carriers and if necessary by air from nearby Rochester, NY airport.
TERMS OF SALE & ORDERING INFORMATION
Our terms for machines are 20% deposit with order and balance due before shipment or pick-up is made. Certified or bank cashiers checks get immediate shipment or pick-up, regular checks must be held for 10 days or mailed 10 days in advance to clear before shipment or pick-up can be made. Our terms for parts are net/10 for established accounts and COD for new accounts.
We now accept VISA & MASTERCARD for payment of parts only and for amounts less than $2000. Any invoice not paid within 30 days of invoice will be subject to a 1 1/2% late charge per month and loosing your open account status with us. Due to processing costs, our minimum order is $25.00